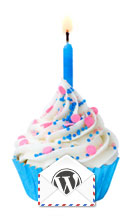 wpMail.me is 1 year old. Last year, on May 26'th, the first issue was sent to 44 subscribers.
A year later, after 54 weekly issues, there are now over 4,500 subscribers.
I'd like to give a BIG THANK YOU to all of you for reading wpMail.me every week. You're the best!