Six months ago wpMail.me was born.
It's a weekly newsletter, aimed to cover pretty much all the important WordPress news and articles from that specific week. It helps you stay informed, making sure you don't miss anything big going on in the WordPress community.
The list grew from 0 to almost 3500 subscribers in the past 6 months. The stats behind wpMail.me really helped us understand what people click on, what subjects matter, titles that increase interest, what are the top countries with WordPress enthusiasts and so on.
Today we want to share all of this with you, WordPress lover.
That's why we made an easy to digest Free PDF Report with all the data gathered from the past 25 issues.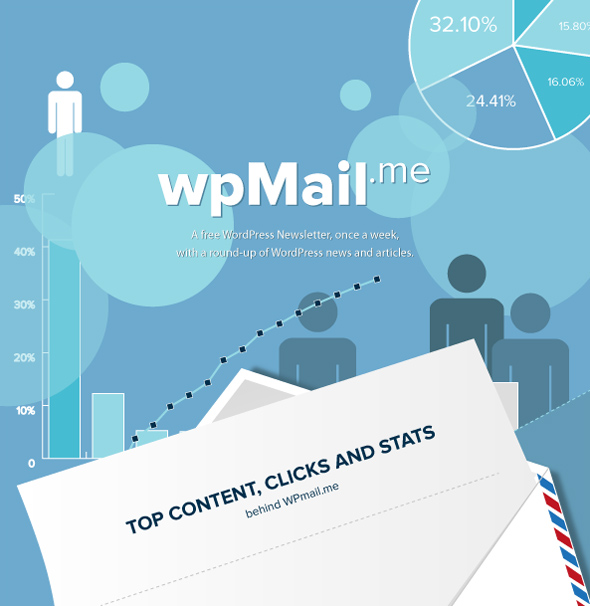 All you need to do in order to download the free 6 months report is
This will get you access to all the statistics behind this manually curated newsletter.
If you're not already on the subscribers list, here are
5 Reasons You Should Subscribe to wpMail.me :
1. It Saves Time
Stop browsing through tons of RSS feeds. We'll wrap everything up in one delicious package, each week. Say: bye bye RSS, hello wpMail!
2. Easy to Browse
wpMail.me has an intuitive structure covering categories like: News and Articles, Theme News, Theme Releases, Plugin News and Tutorials. This layout makes browsing fast and pleasant.
3. Fresh Info
We guarantee you will be served only the latest news. Fresh content, each week.
4. Hand-picked Content
wpMail comes with manually selected content. Each piece is carefully browsed and filtered and only the best content gets listed.
5. Keeps you up to date
Each week we'll make sure you don't miss anything important from the tons of stuff going on in the WordPress community. This is our mission!
So, what are you waiting for? Jump aboard!